Aromatherapy
What is aroma therapy?
It is a natural therapy. The goal of this therapy is to recover the balance of body and mind with scent and remedial effect of plants and to keep homeostasis. The therapy uses aroma essential oil extracted from herbs. The therapy is the origin of scent treatment which heals the body and mind. We developed the technology that turns Vitamin C and aroma into gel-type ingredients. We manufactured it as a filter made into a 'capsule' which is installed into the shower head. When you take a shower with an Aroma Sense shower head, water with certain amount of aroma and Vitamin C comes out of the shower head. Natural aroma oils produces fresh fragrances, Aroma Sense can uplift your mood, relieve temporary stress and help with relaxation.
Vitamin C
Makes your rough and dry skin moisturized and smooth
Vitamin C cartridge neutralizes chlorine on contact and nourishes your skin & hair to prevent dryness. Vitamin C helps maintain skin elasticity for fewer wrinkles and is essential for collagen production.
Vitamin C is one of natures antioxidants. Its make up includes collagen. It is also known that Vitamin C is helpful for strengthening the skins immune system which benefits skin health including whitening, antioxidant effect and anti-inflammation.
You can experience a healthy and refreshing shower with Vitamin C and aroma. Inside each Aroma Sense shower head there is a capsule with Vitamin C gel. Each capsule contains a Vitamin C concentrate equivalent to 3,000 lemons mixed with aroma oil. The hot water of the shower melts the gel adding the Vitamin C to the shower water.
When you take a shower, 0.6mg~1.2mgs of Vitamin C per litre of water comes out of the shower head. It removes more than 98% of residual chlorine in tap water. In addition, Vitamin C is gently released to keep your skin smooth and your hair well-nourished.
Effect of water saving
Maximize the effect of water and energy saving by reducing the amount of water consumed
Patented triangular water spray plate hole was successfully invented by KNTeC's photo etching technology. We applied for domestic and international patents [A total of 4 patents including domestic patent 10-0562076, international patent ZL 2006 8 0025664. 7 and Chinese patent.] This triangular water spray plate hole technology has the effect of 20 ~ 30% water saving. It also increases discharge water pressure so that you can enjoy a spa like shower experience in your own home.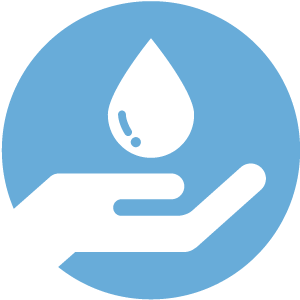 Chlorine Removal
The chemical structure of Vitamin C has the ability to react with the chlorine that is contained in the water, creating a non-harmful mild hydrochloric acid, which then provides a mild acidic clean water that is ideal for your hair and skin development.
Increased water pressure
By just changing the shower head, we will make weak water pressure strong.
Aroma Sense shower heads feature our patented triangular water jet holes which are 10 times smaller than others so that our shower heads generate 3~6 times higher water pressure than others. This water pressure increase leads to strong cleansing effect. It helps remove to thoroughly clean skin pores.
Generating Negative Ions
With our innovative triangle spray plate hole, Aroma Sense shower head is able to generate up to 421,000 negative ions/cc (equivalent to a waterfall) through the Lenard effect to help revitalize your mind and body.
Silk therapy shower
You can enjoy the silk therapy shower with strong but soft water, like silk
KNTeC's original and innovative technology gives you a soft mist spray, water flowing like silk even with higher pressure. When you take a shower, you will feel the softness of the water and the effect of massage, not harshness. Soft water like silk will make you feel like you are taking a rest at a top class spa for the healing of mind and body.